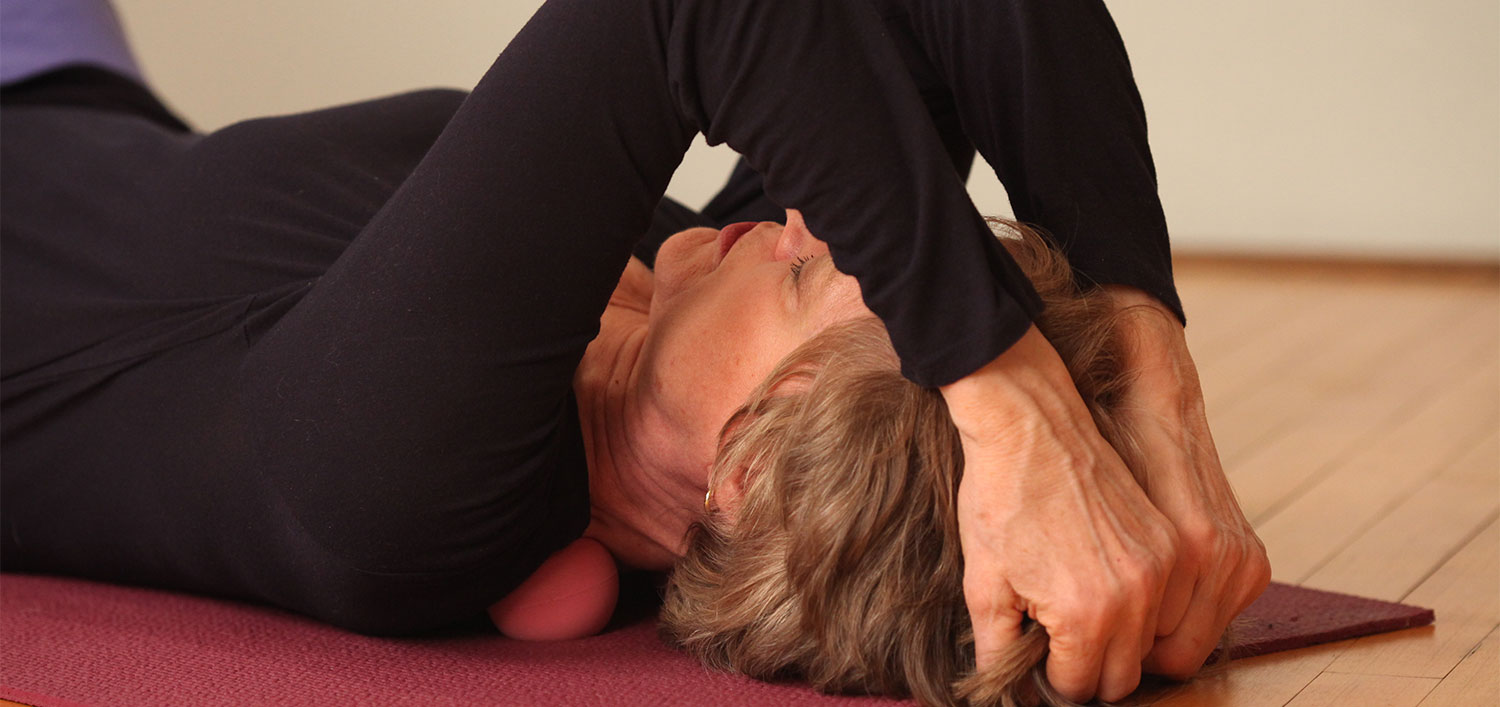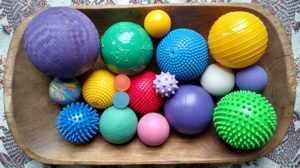 Bodymind Ballwork is a bodywork system that can benefit people of any age or physical condition. The distinct feature of Bodymind Ballwork is the use of rubber balls of varying sizes and textures (as small as a walnut and as big as a melon), which support, massage and stretch localized areas of the body.  There are techniques for every part of you, from head to toes. The result is a wonderful feeling of lightness and ease in the body, and quiet alertness in the mind. To quote one student: "It's like having a massage therapist in your pocket".
My method is called Bodymind Ballwork to underscore the truth that any and all experiences register in the body and the mind simultaneously. Our mental state will shift from working on the body, and our physical state will shift from mental focus. We are already "integrated" but we don't always feel that way. This technique is an elegantly simple and profound pathway toward the experience of an integrated self.
Bodymind Ballwork evolved from my forty-year practice of Kinetic Awareness, a bodywork method developed in the 1960's by Elaine Summers who was a dancer, choreographer, film-maker and teacher.  The origins of this approach to bodymind education go back to pre-war Germany, to the work of Elsa Gindler, an innovative physical education teacher.
Watch for my new book about the work, coming soon. For those who have studied with me before, you will find no change in what I teach now even though the name has changed. The new name represents what I have developed, while giving due credit to Kinetic Awareness, and it marks a stage in my own evolution as a practitioner and teacher.
I practice 15 minutes or so of Bodymind Ballwork before I practice yoga. I find that it loosens stiff areas and refines my awareness so that the yoga practice is more enjoyable.
You can join me in my NYC studio any Wednesday at noon to practice Bodymind Ballwork in a class, or you can contact me to book a private session.  There is a list of teachers trained in the method here, and I encourage you to find a class near to you experience this method for yourself.
In the fall of 2017 I recorded a YogaUOnline webinar entitled Yoga & Myofascial Release: The Bodymind Ballwork Method.  Registration includes a practice video, transcript and recording of the webinar.
February 18 and March 18, 2018, 2-5 pm, Bodymind Ballwork, an Introduction to the Art of Myofascial Release, at Shree Yoga in Bergen County NJ, info here. 
One student's comment: To participate in Ellen's ballwork classes, in an intensive series as well as in weekly sessions, gives me an exceptional chance to heal my body and lighten up my mind. Ellen is one of the most dedicated teachers I've ever encountered: her knowledge of the body is superb and she knows how to convey that knowledge; her style of presenting the exercises combines compassion and humor. Attending her class enables me to be disciplined and gentle to myself when doing the exercises at home – often getting totally rid of any pain. What a blessing !  —JK