8 Night Mindfulness
&

Yoga Retreat
St. John – 1/27 to 2/4 2018
with Ellen Saltonstall and Kate Mitcheom
"This past January, eighteen of us spent a week in Retreat at the Concordia Eco-Resort on the Island of St. John, Virgin Islands. We enjoyed morning yoga that was adapted for any body, followed by breakfast, then a couple hours of Mindfulness and meditation followed by lunch and then an excursion either hiking, snorkeling or just hanging out at the beach or pool.  At the end of the week we had connected and made new friends, strengthened our bodies, eased our minds and replenished our spirits.  I do hope you can join us this coming year!"—Kate Mitcheom
Less than a 5hr flight from NYC, this part of St John is surrounded by thousands of unspoiled acres with the Concordia Nature Trail providing direct access to the white sands of Salt Pond Beach.
The retreat includes daily sessions of yoga, meditation, and Bodymind Ballwork. Afternoon activities will include a range of water sports, with the opportunity to relax and reflect in an unforgettable location where tree frogs and hummingbirds feel as comfortable as you do.
"I really loved this retreat!!! I feel so much more centered and calm since coming back. I find myself back in the magic of St. John every morning when I meditate. Every part of that week was so wonderful!! I did so much more than I had expected to do with regards to the yoga and swimming. (I can still see the Eagle Ray in my mind). What a great experience! There were so many interesting people on the retreat and I felt a special connection to many of them. [My roommate] (best roommate ever) and I have already gotten together. What a great match!!"
"It was really a life altering experience for me on many different levels." 
"A time to breathe, work out the knots and find the joy."
"It was great—the morning meditation and ballwork /yoga were really well done, and the opportunity to see such beautiful places, fish, turtles and coral reefs are amazing. I might emphasize that a lot in telling folks why doing this in St. John's was SO worth the travel, cost, etc. To be on an island that is so much National Park was a true privilege."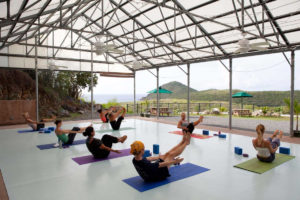 Daily Classes
&

Workshops
| | |
| --- | --- |
| 7:00 – 8:45 am | Yoga |
| | |
| | Breakfast |
| | |
| 10:30 – 12:30 pm | Mindfulness Workshop |
| | |
| |  Lunch |
| | |
| 1:30 – 4:30 pm |  Afternoon of swimming, hiking, snorkeling, napping |
| | |
| 4:40 – 5:30 pm | BodyMind Ballwork (none on Sunday, Monday or Thursday) |
| | |
| 5:30 pm onwards |  Dinner |
We will be staying in Eco or Premium Eco-Tents
Eleven independent eco-tents perch like tree houses along the hillside. Each unit has a composting toilet, solar heated hot water shower, refrigeration, 2-burner propane stove, kitchen supplies and a private deck. Lighting and fans are powered by a 12 volt photovoltaic system. Four of these units are wheelchair accessible.
Premium units have identical amenities to the Eco-Tents but are perched higher up on the brow of the hillside with a stunning view overlooking Salt Pond Bay, Salt Pond, Ram Head, Drunk Bay and down the Francis Drake Channel all the way to Virgin Gorda and take full advantage of the cooling trade winds. These units are wood framed, soft-sided structures. One Premium-Tent is wheelchair accessible, although parking is some distance away.
Please let us know at the time of booking about accessibility requirements.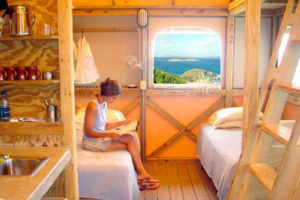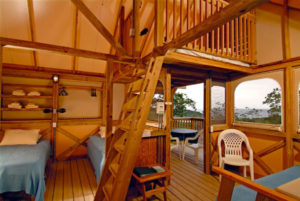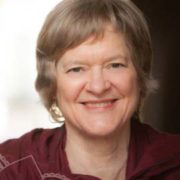 Ellen Saltonstall (E-RYT 500, C-IAYT) is a yoga instructor and certified yoga therapist based in New York with extensive training in Iyengar and Anusara methods. She has been a practitioner for over 40 years and has co-authored two books with Dr. Loren Fishman, Yoga for Arthritis and Yoga for Osteoporosis. Her newest book is Anatomy and Yoga, A Guide for Teachers and Students, was published in 2016. She teaches nationally and internationally with a specialty in anatomy and therapeutics.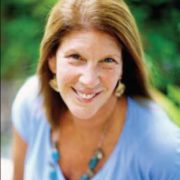 Kate Mitcheom ( MSN, CNM, RYT) has been practicing meditation since 1991 and teaching meditation since 1995 after training at Omega with Jon Kabat-Zinn, Ph.D & Saki Santarelli. In 1997 she was part of the first Teacher Development Intensive at Omega and began teaching for the Center for Mindfulness in 2012 where she is a faculty member. Find our more at: katemitcheom.com  
The cost is $1995 for early-bird discount, double occupancy in Eco and Premium Eco Tents. Transportation and food are not included. Early bird discount, requires deposit by July 1st.  Thereafter, the cost is $2095.